Fourth Chapter of Lakanto's story explaining how Lakanto's Monk Fruit is extracted.
As I mentioned in Part 3, the monk fruit flowers are pollinated one by one and carefully harvested all by hand when they are ready. Thus, it takes hundreds of days to harvest the fruit after planting, as it requires intensive labor compared to synthetic sweeteners.
Ordinary fruits and vegetables can be sold in the market immediately after they are harvested, but monk fruit goes through a very important extraction process after they are harvested.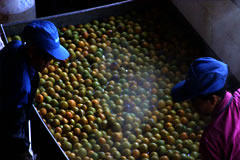 The huge amount of fruit brought in by truck is rinsed and put into the extraction equipment as shown in the photo above. Purified water cleans the fruits of any dust or waste matter occasioned in its growth without pesticides. The fresh fruit is then introduced in hot water without any pre-treatment, such as roasting, to produce the extract of the fruit. After that, the monk fruit extract is concentrated, removing the water, using a low-temperature, vacuum concentration method, maintaining the flavor of the extract that may deteriorate if it is overheated. The fresh fruit extracted this way produces a very sweet and mellow fruit extract with a unique aroma of monk fruit.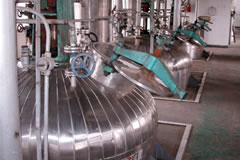 Plant-derived sweeteners, like monk fruit sweeteners, are not guaranteed to produce a consistent harvest every year. The cultivation of monk fruit, in particular, requires a tremendous amount of labor and expense. Although its sweetness may not be as close to sugar as other synthetic sweeteners, we are convinced that it doesn't justify a detriment in safety and security for humans.
---
| | |
| --- | --- |
| | Written by Dr. Yuji Murata |