Second Chapter of Lakanto's story explaining what is a Luo Han Guo fruit.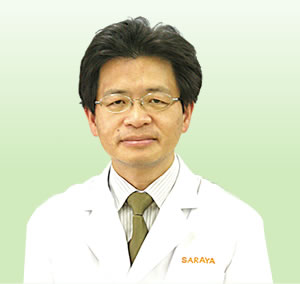 Dr. Yuji Murata, Ph.D Applied Life Science.
Director of SARAYA Natural Materials Laboratory
The scientific name of Luo Han Guo (monk fruit) is actually a really long name "Siraitia grosvenorii C.Jeffrey ex A.M.Lu et Zhi Y.Zhang (Momordica grosvenori Swingle)".
The main areas where the fruit is grown include Yongfu, Linggui, Quanxian, Mengeshan, Quanzhou and Rong'an in south China's Guangxi Zhuang Autonomous Region, about 100 kilometers northwest of Guilin, which is known for its scenic beauty. This is a mountainous area with big temperature differences between day and night, considered to have the best climate conditions for growing monk fruit.
Originally, the name "Luo Han" was given by a Yao tribal doctor who lived in the Guilin area during the Qing Dynasty (1644-1912), who discovered that the fruit had medicinal benefits.
There are many kinds of Lou Han fruits, the most popular ones being "Chantan Fruit", "Cheongbok fruit", "Winter Melon Fruit" and "Lajang Fruit".
The "Changtan fruit" is the best variety of monk fruit. It's a low yielding fruit per plant and is grown in a very limited area. It is suitable for cultivation in mountainous areas at an altitude of 300-500 meters.


The "Cheongbok fruit" variety was developed in the 1960s and accounts for about 90% of the total production of the fruit. However, its weakness is that it is susceptible to root-knot nematode damage, where parasitic root-knot nematode larvae infect the plant roots, killing young plants or decreasing yield in mature ones.


The "winter melon fruit" has a long cultivation history and is known for its high quality and high yield. It is suitable for cultivation in mountainous areas between 700 and 900 meters above sea level.


"Lajang fruit" has high quality and is relatively resistant to root nematodes, but it requires high production and management techniques, which is why it is not popular among monk fruit growers.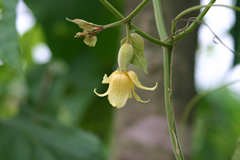 All monk fruits are dioecious and bear beautiful yellow flowers in June to August, with fruiting in August to October and harvesting in September to November.
The fruits are round or ovoid in shape, varying in size depending on the variety, but are about 4-6 cm in diameter and covered with mushroom hairs, of a dark green color that becomes shiny as they ripen. The underground part of the plant has *tubers, and the vines can grow up to 5 meters in length, so it is cultivated on a suspended net.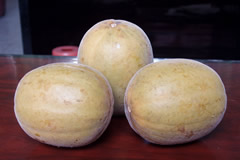 Ripe monk fruits
Since the establishment of cell culture technology a few years ago, there has been a lot of research on the cultivation of monk fruit, as well as on breeding. For example, an oval big monk fruit that is more than 7 to 8 cm in diameter is already cultivated. In the future, not only research on cultivation but also more research on the efficacy of monk fruit is expected.
In the next issue, we will talk about the cultivation and harvesting method of the monk fruit.
*An enlarged underground stem (subterranean stem) that has become spherical in shape.
See Lakanto's lineup of products here